Spring is a beautiful time to visit most places in Europe but it's perfect for visiting home of one of the world's most famous red wines. Rioja has three areas – Baja, where you find the more industrial, mass-producing companies, Alta and Alavesa, these both at a higher altitude and home of the region's finest wines. Alavesa also boasts the medieval town of Laguardia, an ancient mountain citadel and home to possibly Spain's oldest winery – Bodegas Casa Primicia.
Beneath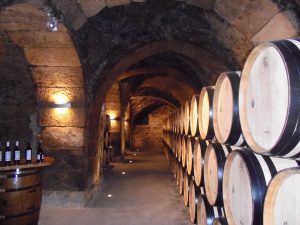 Laguardia is a labyrinth of tunnels that date back to when the pre-medieval village of Laguardia was underground. Part of these tunnels form the cellars of Casa Primicia, a perfect place to age their organic Carravalseca Crianza and Reserva red wine. As you take the ancient stone steps down into this subterranean 'museum' the unmistakable aroma of toasted oak mixed with the powerful fruit of young wine hits you – time for a slurp me thinks! Casa Primicia is owned by the Madrid family and our host for the trip was Iker Madrid, grandson of the man who transformed the winery to what it is today, Julien Madrid.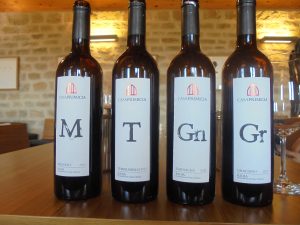 The old winery has been transformed into a museum, guesthouse and tasting room and Iker showed us up to the latter where he had a number of splendid looking bottles awaiting us. Amongst these were the outstanding single variety bottlings (pictured right), Mazuelo, Tempranillo, Garnacha & Graciano – all from the magnificent 2012 vintage. Production of these wines is very small, the largest being the Tempranillo with 12,000 bottles. Each of the four had their own characteristics but the winner for me was the Graciano. A difficult grape to cultivate but delicious when it's got right, this effort has a silkiness reminiscent of a Burgundy but with layers of ripe dark fruit and soft spice from the 11 months it spends in Hungarian oak. At about £12 a bottle, it is outstanding value.
All this tasting was making us hungry so Iker took us to the wonderful Carravalseca vineyard for a spot of lunch. Carravalseca is one of those places that confirm I'm in the right job (we certainly ain't in it for the money!) – an organic vineyard that's surrounded by a bird sanctuary, lagoon and amazing views of the Cantabrian mountains in the distance. We settled at our table next to the wood burner and took in the magnificent view. Iker cracked open a bottle of the 'ultra-rare' 2015 Carravalseca Rioja Blanco (just 540 bottles available for the UK) which was stunning.
Lunch was a long and relaxed affair and tasting an older vintage like 2003 showed how the cool microclimate of the Alavesa region can create elegant wines in hot years. A stroll through the bird sanctuary was a great way to walk off lunch and then a return to Laguardia for some sightseeing, before back to work with more wine tasting and dinner. Crikey, these trips are tough…