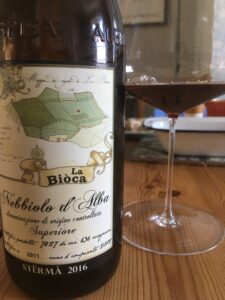 Well kind of…when it's 2018 Nebbiolo d'Alba Superiore 'Sterma', La Bioca, Piemonte!
Sterma is a vineyard just outside the Barolo zone so it has the same soil and climate as the neighbouring vineyards that are inside the zone. Its vines are Nebbiolo, the grape that is the one used for Barolo (and it's more feminine neighbour, Barbaresco), so it's a proper doppelganger.
So although this isn't officially a Barolo it's as good, if not better, than some I've tasted from lesser producers that release mediocre Barolo because they know it will sell on the name only. La Bioca makes some wonderful single vineyard Barolo and this quality winemaking cascades down to their more entry level reds. I have been a huge fan of this wine since tasting the superb 2016 and this week I tasted the newly released 2018 and it's totally delicious, drinking beautifully now but will age pretty well. The best thing however is the price – £14.50 a bottle – and this is a bargain when you think that this tastes better that some wines that are twice the price. It's got a great label too!
2018 Nebbiolo d'Alba Superiore 'Sterma', La Bioca, Piemonte @ £14.50 a bottle. To place an order email jonny@songbirdwine.co.uk
Best,
Jonny
Interested in buying this wine? Get in touch, leave me your contact details and I'll get back to you right away...
I'd like to buy wines