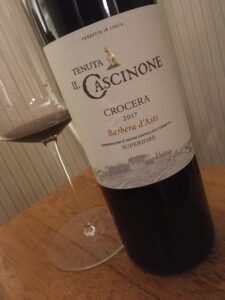 You lucky people!
Songbird Wines currently has an unbelievable offer on the wonderful wines of Il Cascinone that will run until stocks last. Il Cascinone is a winery owned by Piemonte producer Araldica and is home to some of their finest vineyards.
Each wine is produced from a single grape variety and is named after the vineyard it comes from. All grapes are hand harvested so only the finest fruit is used and is a selection process you rarely find with wines at this price. With five different grape varieties on offer there is something here for everyone. All wines are priced at £7.95 a bottle.
The Whites
2018 Campo Fiorito Chardonnay
I have always been amazed at the quality of this wine. This will beat many a pricier Macon hands down. One third of the wine is aged in French oak, the rest stainless steel. The result is a soft, creamy Chardonnay with hints of butterscotch, honey and lovely citrus flavours. It is poised and beautifully balanced. It ages incredibly well too and I've tried bottles that are five years old that have been totally delicious.
2016 Fontanino Riesling
A dry, minerally and textured Riesling that proves how well this grape variety can perform in this part of Italy. It has elegant and refined aromas of lime and lemongrass. The palate has a mix of citrus and stone fruit with mineral notes. The finish is dry, long and complex.
2018 Camillona Sauvignon Blanc
From Il Cascinone's prized vineyard that was planted in 2000. The easterly disposition prevents the hot afternoon sun stripping the flavour from the grapes. After harvesting in September the wine is kept in tank to stabilise before bottling in the spring. An elegant style of Sauvignon with ripe gooseberry and a hint of elderflower. Crisp grapefruit on the palate and a weighty texture make this a must for all Sauvignon lovers.
The Reds
2018 Soliti Merlot
Anyone that thinks Merlot is boring should try a glass of this structured and plummy treat. I don't think you'll find a better one at this price (or at a bit more) and I have cracked open a number of bottles of this over the years. Grapes are from a small, south west facing vineyard that is warm during the day and cool at night and that's where you get the perfect balance of ripeness and freshness. The wine is aged in large oak casks and the result is joyous. Aromas of plum, blackberry and savoury spice with layers of fruit and dark chocolate on the palate. Definitely one for a Sunday roast.
2017 Barbera d'Asti Superiore Crocera
Here we go. If I was to choose one wine out of them all then it would be this magnificent Barbera with it's fresh juicy fruit and seductive, spicy notes. The Crocera vineyard sits in the renowned Monferrato hills of Piemonte and produces a wine of great distinction. It is aged in French oak for 10 months but this just enhances the fruit rather than masking it. Complex flavours of ripe black cherry, damson, plum and dark chocolate entice the senses. This is a wine on a roll as it has won gold at the Sommelier Wine awards for two years running and silver the year before that. I love it!
Offer price available for multiples of 6 or more of the wines above and cases can be mixed. The usual price of these wines is £9.25 so you are saving almost £8 per case. Wine available for immediate delivery but be quick, wine this good at this price doesn't last long!
Jonny W
Interested in buying this wine? Get in touch, leave me your contact details and I'll get back to you right away...
I'd like to buy wines