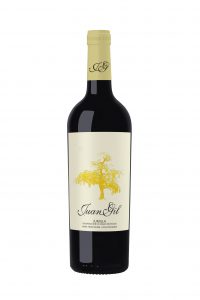 2018 Monastrell Yellow Label, Bodegas Juan Gil, Jumilla
Champion Best Value Red – Wines from Spain Awards 2019
"A brilliant and totally delicious wine, to say it punches well above its weight is an understatement!" JW
Jumilla is one of Spain's lesser known wine producing regions. It's located in the south east around 60 miles west of Alicante and home to some of the oldest Monastrell vines in the world. The Monastrell grape (known as Mourvèdre in France) thrives on these old vines as the deep roots seek out moisture rich in minerals to give the fruit extra depth and complexity. The results are quite striking and can produce wines of exceptional value.
Bodegas Juan Gil are the leading winery in this unsung region. Founded in the early 20th century they are still family owned and produce a number of outstanding wines however, bang for buck, the Yellow Label takes some beating. The grapes come from 40 year old bush vines situated 700 metres above sea level. This elevation gives a cooler climate at night that cools the grapes and gives them and the resulting wine more freshness. After fermentation the wine is aged in French and American oak for around 4 months then aged further in bottle until release. This wine has been a mainstay of the Songbird Wines portfolio for five years and this is probably the best vintage I have tasted.
2018 Monastrell Yellow Label, Bodegas Juan Gil, Jumilla @ £59 per case (6)
"Very ripe on the nose with blackcurrant, plum and spice. Lush and juicy on the palate with warming, ripe flavours of dark fruits but with well-balanced freshness. Soft, silky tannins give it serious structure. A brilliant and totally delicious wine, to say it punches above its weight is an understatement!" JW
The Wines from Spain Awards is held yearly in London and is one of the most important Spanish Wine competitions. For this to win Champion Best Value Red is a huge accolade. Although lovely now this wine has plenty of life ahead of it and will be delicious for at least another five years.
Buy now!
Interested in buying this wine? Get in touch, leave me your contact details and I'll get back to you right away...
I'd like to buy wines